Vengdayîşê mîyanneteweyîye yê seba wedartişê tecrîdî
Sîyasetmedar û rojnamegerê naskerdeyî zî tede 100 ra zafer kesan semedê wedartişê tecrîdê serê Ocalanî û hepsîyanê sîyasîyan veng da.  Vengdayîşê de bale anciya serê Leya Guvena ke 65 rojî yo grevê vêşanîye de ya.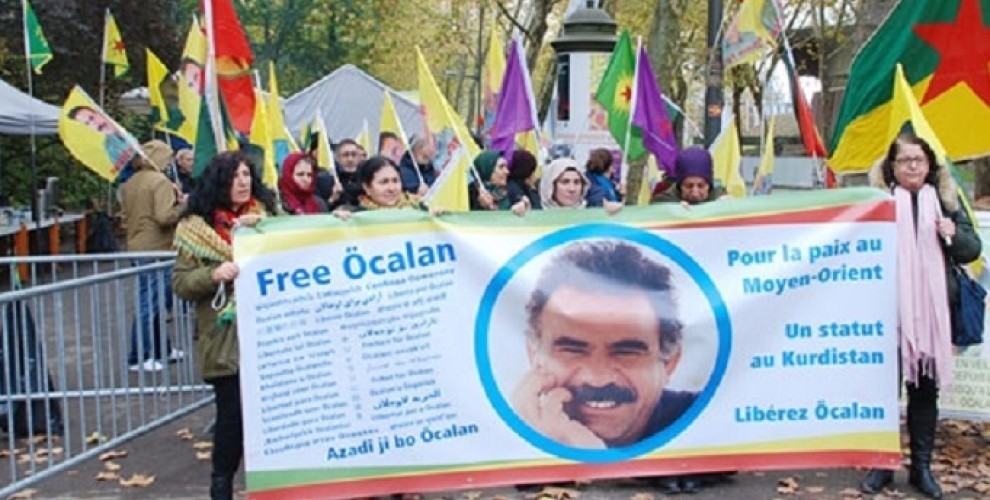 Nameyê sey Prof. Immanuel Wallerstein, Prof. David Graeber Prof. Norman Paech, Denis O'Hearn, Prof Kariane Westrheim, Isabel Kaesere zî tede 100 ra zafer kesan semedê wedartişê tecrîdê serê Rayberê Şarê Kurdî Abdullah Ocalanî û heme hepsîyanê sîyasîyan vang da.
 Eşkerayîya vengdayîşê de ca dîya nînan: ''Ma wayîrê nê îmzayan veng danê ke  dewlata Tirkî ya ke heme heqanê merdiman binpay kena û Ocalan û hepsîyanê sîyasîyan tecrîd kena, wa nê tecrîdê cade wedaro. Her şeklê tecrîdî çarçiwaya Qeydeyanê Mandela yê ke serra 2015î de hetê Neteweyê Yewbîyayeyî (NY) ra ameyî qebûlkerdene, qedexe yo. Goreyê nê qeydeyan pêdima 15 rojan ra dergêr roje de 22 saet kesêk rê temas nêkerdiş sey tecrîdê hucreyî yeno namekerdene.
Tecrîdê hucreyî serê Abdullah Ocalanî serra remnayîşê ey 1999î ra nata 20 serrî yo Îmrali de dewam keno û tecrîdo girdankerde yo ke ey ra qet xebare nêna girewtene kewto serra xo ya 3ine.
No mabênê de serra 2015î de dimayê caverdayîşê prosesê aşitîye Tirkîye  şerê xo yê leşkerî xorî kerd û hemverê Kurdan de zextê xo zêdîna. Bi tewqîfkerdişê sîyasetkaranê rayberan ê Kurdan îdareyêko otorîter kewte dewre.
Parlamentera HDPyî ya cinî Leyla Guvena ke rixmê parlameterîya xo zîndan de yena tepiştene, semedê wedartişê tecrîdê serê Ocalanî  65 rojî yo grevê vêşanîye de ya û semedê paştdayîşî bi seyan hepsîyî zî kewtî grevê vêşanîye. Reyna bajarê Strasbourgî yê Fransa de 14 sîyasetmedarê Kurdan zî grevê vêşanîye de yê.
Zîndananê Tirkîye de hûmara hepsîyan resaya 260.000. Sazîyê heqê merdiman danê zanayene ke heqê hepsîyan yenî binpaykerdene. Çalakîya grevê vêşanîye ke hetê 150 ra zafêr hepsîyan ra yena kerdene, ziraro pîl dano weşîyê înan. Ma nê ke îmzayê ma cêr de yê, sey leteyêkê têgêrayîşê paştîdayîşî  veng danê ke wa peynîya bêedaletîya tecrîdî bêro.
Ma wazenê ke semedê rumetê merdimîye û heqanê merdiman tecrîdê serê Abdullah Ocalan û heme hepsîyan wa cade bêro wedartene û grevê vêşanîye bêrî vindarnayene.''
Nameyê ke vendayîş îmza kerdî wina yê: Prof. Immanuel Wallerstein – USA; Prof. David Graeber – UK; Raúl Zibechi – Uruguay; Prof. Norman Paech – Germany; Prof. Andrej Grubacic, Chair Anthropology and Social Change Department CIIS, San Francisco; Denis O'Hearn, Dean of Liberal Arts, Professor of Sociology – University of Texas; Prof. Ana Cecilia Dinerstein, Department of Social and Policy Sciences University of Bath; Orsola Casagrande, Journalist; Alessandro Spinazzi, Italy; Salvadore Palidda, Genova University – Italy; Seamas Carraher, Poet and Writer – Ireland; JM Arrugaeta Historian and Journalist – Basque Country; Debra Werblud, Visual Artist, US; Victoria Sandino Senator FARC – Colombia; Alexandra Nariño FARC Party Executive – Colombia; Boris Guevara Film Director – Colombia; Angelo Baracca, University of Florence – Italy; Jesús Maria Aldaiturriaga Egia LAB – Basque Country; Emanuele Leonardi, Researcher – Italy; Giovanni Giacopuzzi, Writer – Italy, Lord Nicolas Rea – UK; Lord Dholakia – UK; Hywel Williams MP – UK; Tommy Sheppard SNP MP; Chris Stephens SNP MP; Jill Evans MEP; Julie Ward MEP; Dr Thomas Jeffrey Miley, Lecturer of Political Sociology in the Department of Sociology – Cambridge University; Dr Derek Wall, Goldsmith University of London; Christine Blower, NUE International Secretary; Amber Huff, Researcher Sussex University; Margaret Owen OBE, human rights lawyer; James Kelman, writer; Dr Radha D'Souza, Westminster University; Les Levidow, CAMPACC; Nick Hildyard, policy analyst; Gareth Peirce, solicitor; John Hunt, journalist and writer; Janet Biehl, writer, translator; Rahila Gupta, writer, journalist; Simon Dubbins, International Director UNITE; Clare Baker, International Officer UNITE; Meredith Tax, writer; Prof Kariane Westrheim, University of Bergen; Sarah Parker, translator; Stephen Smellie, Deputy Covenor UNISON Scotland; Doug Nicholls, General Secretary, General Federation of Trade Unions (GFTU); John Smith, President of GFTU; Steve Sweeney, International Editor, Morning Star; Alastair Lyons, Solicitor; Dr Patrick Huff, Birkbeck College, University of London; Bert Schouwenbourg, trade union advisor; Trevor Rayne, Editorial Board of Fight Racism! Fight Imperialism!; David Morgan, journalist; Melanie Gingell, barrister; Jonathan Bloch, writer; Dr Felix Padel, writer; Maggie Bowden, General Secretary, Liberation; Robert Atkins, solicitor; Saleh Mamon, CAMPACC; Liz Saville Roberts MP; Penny Papadopoulou, journalist; Isabel Kaeser, PhD student, SOAS University; Greta Sykes, writer and poet; Gacheke Gachihi, Coordinator Mathare Social Justice Center, Kenya; Veronica Fagan, editor Socialist Resistance; Tony Simpson, Bertrand Russell Peace Foundation; Dr Naif Bezwan, scholar; Maude Casey, writer; Dr Aubrey Nunes, clinical linguist; Jack Hirschman, emeritus Poet Laureate of San Francisco, Agneta Falk, Poet and Painter; Catherine Taylor, musician; Luca Guzzetti, University of Genoa – Italy; Rossella Caruso, art historian – Italy; Roger Connah, writer – Wales; Giuliana Grando, psychoanalyst and psychotherapist – Italy; Joyce Kozloff, artist; Max Kozloff, writer and artist; Gioia Meller Marcovicz, designer; Piero Scarselli, academic; Dr. Dario Azzellini, Cornell University, Ithaca, USA; Sergio Tischler, Benemérita Universidad Autonoma de Puebla, Mexico; John Gibler, writer; Dr. Dawn Marie Paley, journalist; Andrés Ruggeri, director Programa Facultad Abierta, Universidad de Buenos Aires, Argentina; Dr. Gilberto López y Rivas, Universidad Nacional Autónoma de México (UNAM); Peter Ranis, Professor Emeritus of Political Science City University of New York; Camila Piñeiro Harnecker, profesora Centro de Estudios de la Economía Cubana, Universidad de La Habana, Cuba; Ashish Kothari, Kalpavriksh, India; Christy Petropoulou, As. Profesora Universidad de Egeo, Greece; Dr. Grazia Borrini-Feyerabend, Switzerland; Marko Ulvila, Tampere, Finland; Sarah Sexton, Nicholas Hildyard, Larry Lohmann, Co-Directors The Corner House, UK; Emily Andersen, photographer and senior lecturer, Nottingham Trent University; Alice Dalgobbo, academic; Flavio Chedid Henriquez – coordenador Solidariedade Tecnica – SOLTEC/UFRJ, Brazil; Emily Apple, journalist; Maxine Peake, actor; Darnell Stephen Summers, film-maker; Valerie Mainstone; Kurdistan Solidarity Network; Brighton Kurdistan Solidarity; Prof. Nira Yuval-Davis, Centre for Migration, Refugees and Belonging, the University of East London; Alain Hertzmann, UNITE the Union; Dafydd Iwan, Former President Plaid Cymru; Bruce Kent, Peace Campaigner; Aonghas MacNeacail, Scottish Gaelic poet; Engin Sustam,  Akademîsyenê Seba Aşitîye; Muzaffer Kaya, Akademîsyenê Seba Aşitîye; Nazan Ustundag, Akademîsyenê Seba Aşitîye; Achin Vanaik, Retired Professor of 'International Relations and Global Politics', University of Delhi; Pamela Philipose, Senior Journalist, New Delhi, India Bodhisatwa Ray, Social Activist, West Bengal India; Sushovan Dhar, Trade Unionist, West Bengal, India; Avishek Konar, Assistant Professor, Jindal Global University, Haryana, India; Anish Vanaik, Associate Professor, Jindal Global University, Haryana, India.